This is a sponsored post. When you support our advertisers, you help to keep our site in business, bringing you the best deals and free events in Palm Beach County.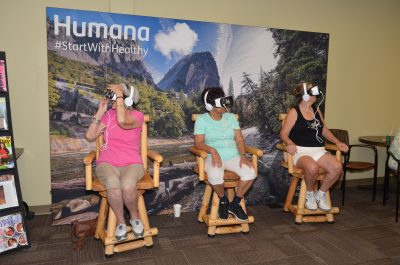 How are your N.E.Ls.?
As a sponsor of the U.S. National Park Service's Centennial Celebration, Humana is helping spread the message that it's important for all of us to spend time outdoors and experience the joy of being in nature. That way, we can raise our Nature Engagement Levels (N.E.L.s)!
Humana is taking its "Bring the Parks to You" tour to Florida, including a stop in Delray Beach Oct. 29-30. Since Humana can't actually bring all the national parks along, it is counting on virtual reality to share park experiences at the Delray Marketplace Art & Craft Festival. The festival will be 10 a.m. to 5 p.m. both days at the Delray Marketplace, 9025 W. Atlantic Ave., Delray Beach, FL 33446. Admission is free.
At the festival, you'll be able to experience the "Bring the Parks to You" tour with these activities:
A virtual reality experience set in the beautiful Joshua Tree National Monument and Yosemite National Park.
An interactive quiz, developed by Humana and National Geographic ,that evaluates your Nature Engagement Levels (N.E.L.s) to determine whether you are experiencing enough nature in your daily life to stay in peak health.
A fun and interactive GIF generator that will put you in the middle of a whitewater rapid. You'll end up with an image you can share with all your friends on social media.
A pop-up log cabin that will host all these activities and provide the right atmosphere for planning your next outdoor adventure.
Plus, the festival is outdoors, and you can enjoy being outside with friends and family while you're there. You can start planning in-person visits to national parks, too. Our own Everglades National Park is at its best in winter.
If the festival inspires you to visit a park immediately, check out The Palm Beach Post's list of the 10 best parks in Palm Beach County.
Humana believes we should all #StartWithHealthy, and a big part of staying healthy is enjoying natural areas such as parks. Research suggests that Americans will spend upward of 93 percent of their lives indoors. In an area as beautiful as South Florida, that would be a shame. Our best outdoor months are starting now.
If you want to spend more time in Florida's natural areas, here are some places to start:
This is a sponsored conversation written by me on behalf of Humana. The opinions and text are all mine.