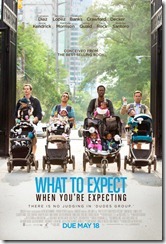 The new film "What To Expect When You're Expecting," opens May 18. But Miami on the Cheap readers have a chance to get free movie passes to a sneak preview at 7:30 p.m. Monday, May 14, at the Regal Shadowood in Boca Raton.
The film follows five couples whose lives are turned upside down by the challenges of impending parenthood. It stars Cameron Diaz, Jennifer Lopez, Elizabeth Banks, Chace Crawford, Brooklyn Decker, Anna Kendrick, Matthew Morrison, Dennis Quaid and Chris Rock.
To get your free passes (each pass admits two), go to www.gofobo.com/rsvp and enter RSVP code: PCHEAP0ALQ.
These passes usually go quickly, so move fast if you want one.
Passes are limited and seats are on a first-come, first-served basis. Because promoters overbook these screenings, it's smart to arrive early.