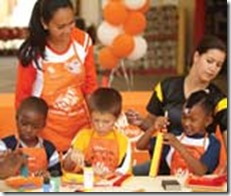 Free hands-on projects for youngsters are offered occasional Saturdays at participating Home Depot stores.
The next activity is offered between 9 a.m. to noon July 6. The project features a theme associated with the the movie "Despicable Me 2." Register on the Home Depot website.
The free kids' workshops, which teach youngsters tool safety, usually are 9 a.m. to noon the first Saturdays of the month. Participants receive a Kids Workshop apron and keep their projects. The activities are designed for youngsters ages 5 to 12.