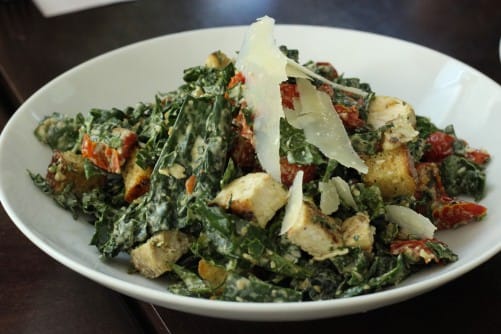 Apeiro Kitchen + Bar, a contemporary Mediterranean-inspired restaurant by restaurateur Burt Rapoport, will start lunch service today, September 24, from 11:30 a.m. until 3:00 p.m.   Executive Chef David Blonsky has taken some of his most popular dinner menus items (like the Bar Harbor Mussels with saffron cream and the Apeiro spreads) — and made them into lunch-sized portions.
To stay in sync with the other restaurants in the Rapoport Restaurant Group, Apeiro will offer 10 lunch options for $10. These options will be served with a soft drink, iced tea or coffee.
Items included in the 10 for $10 offer include:
CHICKEN KABOB

koshari rice, sofrito, romaine salad

–

CRISPY EGGPLANT PITA

tzatziki sauce, grilled vegetable slaw, french fried potatoes

–

SALMON SALAD

mixed greens, green beans, fennel, cherry tomatoes, bell peppers, red onion, dill-mustard vinaigrette

–

VEGETABLE OMELETTE

spinach, tomato, broccoli, mozzarella, simple green salad

–

CHICKEN PITA

calabrian yogurt, hummus, roasted peppers and onions, french fried potatoes

–

MARGHERITA FLATBREAD

oven-roasted tomatoes, mozzarella, torn basil

–

GAZPACHO

choice of ricotta grilled cheese or simple salad

–

CURRY CHICKEN SALAD

toasted almonds, golden raisins, hummus, romaine, warm pita

–

CHICKEN KALE CAESAR

oven-dried tomatoes, parmigiano reggiano, focaccia croutons

–

MEATBALL SLIDERS (2)

tomato sauce, basil pesto ricotta, toasted brioche, simple green salad
In addition to the 10 for $10 lunch offerings, Apeiro will also offer a variety of a la carte menu items priced between $8-$12.
Apeiro Kitchen + Bar is located at 14917 Lyons Rd in the Delray Marketplace; 561.501.4443