Delray Beach Market, at 150,000-square feet, the largest food hall in the state, is now offering FREE music on the weekends. The performances will be in front of the Central Bar on the ground floor. The action is just 50 yards south of Atlantic Avenue,
Here's the schedule:
Friday: 6 p.m. – 10 p.m.
Saturday: Noon – 4 p.m. and 6 p.m. – 10 p.m.
Sunday: Noon – 4 p.m.
Meanwhile, the FREE shuttle rides from Delray Beach Market will continue to three stops along the beach. The shuttle embarks from the main entrance, facing west.
A spokesman for Delray Beach Market said the facility will also offer FREE meeting space for nonprofits; upstairs in a spacious lounge between a bar and a show kitchen, overlooking the action on the ground floor. More information will be forthcoming.
Here is some more pertinent information about how the food hall operates:
The doors open at 8 a.m., but you can only enter from the north. Two restaurants serve breakfast–The Modern Rose and Big T's Deli. The nearby Lovelee Bakery, along with the rest of the vendors, opens at 11 a.m.
In terms of parking, payment is by a mobile parking app only, either scanning a QR code on a sandwich board to the right of the entrance, or downloading an Android or Apple app. There is a toll free number for visitors who do not have a smart phone. Parking validation policies are still being sorted out.
Tip to Tail and Cellar & Wine are selling retail items, such as fresh fish at the former and cheese, wine, crackers, mustard, cookies, olives, salami, sausage, sauces and dressings at the latter.
This may be poetic justice. Locals may remember that the beloved King's Gourmet Market in Boca Raton was supposed to have moved into the 10,000-square foot ground floor of the Old School Square parking garage. However, that $2 million deal fell through in 2008.
So, it's nice to see gourmet retail is moving in nearby. There's an expectation that retail space will expand at Delray Beach Market, said Matt Reilly of CELLAR & WINEXXX.
Speaking of wildly popular, family-owned and operated retail outlets; the iconic Nomad has wandered into a second location at Delray Beach Market.
You may remember that in 1968, Ron Heavyside, at age 20, started the Nomad in a corner of his father's TV repair shop. That shop, known from the surfing world from Florida to Hawaii to Australia, is now an 8,000-square-foot landmark. It also finds itself competing with the national WINGS Beachwear chain, with an estimated $45.5 million in annual sales, with three stores in Palm Beach County; including Delray Beach, across from The Colony Hotel.
Menin Development President Jordana Jarjura knew Ryan from school and invited him to open a second branch at Delray Beach Market.
New Hampshire native Taylor Buczynski says the Nomad Surf Club says, "We are small, local and homegrown and want to keep it that way. We will be a 3-D ad for the original Nomad Surf Shop and increase traffic to the original shop."
Buczynski, a Lynn University alumna, has worked at Nomad 10 years and is the fiancée of Heavyside's youngest son, Ryan.
The business manager's custom designs appear on Nomad's private label women's beach, lounge and active garments, imprinted by Morningstar Printing of Boynton Beach.
"We are calling this outpost the Nomad Surf Club. We will take the next few months to figure out the demographic visiting us at the Delray Beach Market and find out what they want to buy. We expect we will get a lot more tourists and walk-in traffic here, than we do in Boynton Beach."
She added, "The Wings market is big, but it is not our market."
Chef Daniel Diaz, Dad's Favorite Burgers & Pies
His parents separated before he was born, his father and grandfather had owned Cuban restaurants in Miami, "So this is in my DNA." 3 ½ year old daughter and 1 year old son.
From 5:30 a.m to noon, wife Ashley is sourcing submarine parts for Lockheed Martin, the largest defense contractor in the world. She helps out at the restaurant at night, doing anything from finance, HR, marketing, cleaning and cashiering.
The Lake Worth Beach resident has cooked for many upscale restaurants, including Café Buloud in Palm Beach.
Married five years, met at a church in Pompano Beach.
Ashley Diaz, 13 years at LM. She sources mechanical and technical parts for Navy submarines from various manufacturers.
Coming from Minnesota, her dream was to handle invetmentss for high net worth portfolios on Wall Street. A friend recommended her for the procurement job.
"One was on commission. One was a salary. It took me a week to decide to go with Lockheed Martin. One month later the stock market crashed in October 2008."
Marketing for the restaurant should be a snap. In her spare time, Ashley grew her @makehomewarm Instagram account to about 56,000 followers in a year. Until she was sidelined, she focused on health and fitness. Now she focuses on wellness and beauty (especially hair styles.)
I'm glad I have other jobs and don't make my living with Instagram, Ashley said. I don't want to get caught up like some influencers do and endorse products I don't use or believe in."
While Daniel was pulling all-nighters at the restaurant the first three weeks it was open, the couple believe opening their first restaurant at Delray Beach Market is low risk. That's because the vendors don't pay rent, the landlords takes a portion off their sales.
"Where else would the Governor have done a ribbon cutting for us? There's no way that would have happened without all the marketing for Delray Beach Market."
The Diazes will be expanding into catering operations in June, when special food carts arrive from China. Catering can be ordered on site and online.
Daniel always wanted to be a Dad and he is a very good father. Sometimes you learn from what you don't have and he has an eagerness to provide what he did not have growing up.
The pie recipes are from David Shaffer, a pastor at Victory Church in Boca Raton.
Remember to include MAP photo.
"This facility is 150,000 square feet, which makes it one of America's largest food halls. It's a very roomy space. Think of a mall, but with lots of indoor and outdoor space." Michelle Soudry
Visit 27 food vendors
Construction began in November 2019, enough time for the builders to add some features due to the pandemic. They expanded outdoor seating to 200 seats, included touchless bathrooms, installed an enhanced air filter AC system and put in plenty of socially-distanced indoor seating.
Builders also added dedicated takeout and curbside pickup spots. Customers will be able to order multiple dishes from a variety of Delray Beach Market vendors and have only one bag and one check, no matter how complex the order.
Delray Beach Market offers the guest amenity Freebee, a FREE shuttle, holding five people and operating seven days a week between 10 a.m. and 7 p.m. The destinations will be the food hall, plus three stops along A1A. The shuttle is fully electric and carbon negative. The goal is to reduce traffic in downtown Delray (the food hall expects 2,000 visitors a day) and encourage beach-goers to visit the restaurants. FREQUENCY OF TRIPS TK.
Riders won't be able to request the shuttle at a particular time, but Freebee will run consistently. You can plan ahead by logging into its app and seeing the estimated wait times.
Also, there are now 220 parking spaces in the four-level enclosed garage.
Visitors can enjoy dishes from from Lebanon, Hong Kong, India. There will also be homemade pasta, smoked Virginia barbecue, sushi, tacos, pizza, fried chicken and more. As for dessert, a vendor will offer ice cream in wild flavors, some of them, "boozy."
In terms of liquid refreshment, there is a central bar to build-your-own Bloody Marys along with a rotating menu of seasonal cocktails. Craft beer, such as Key Lime Beer at Central Bar on the ground floor, will also be available.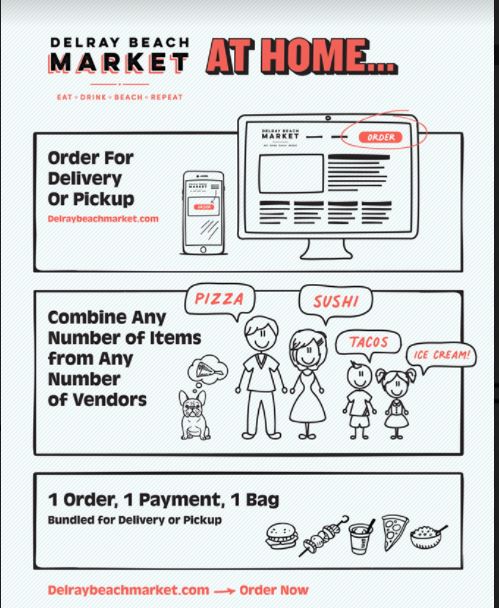 In addition, there is a "show kitchen" with space for an audience and state-of-the-art audio and visual capabilities. The facility will also rotate artisan chefs to showcase up-and-coming culinary talent.
Overall, the facility is designed to be a gigantic community meeting space, as well as a place to dine out. There is already a backdrop of backdrop of large-format interactive murals and sculptures by world-renowned artists.
Delray Beach Market is located at 33 SE Third Ave., Delray Beach, FL 33483
Phone: 561-562-7000
Website: www.delraybeachmarket.com