In these times, we're looking for ways we can help our community. As a small businesses, we want to help other small businesses. So we created a new Palm Beach on the Cheap Deals program. Plus, we're bringing back our popular Events Calendar, which now includes both virtual and real-time events.
Palm Beach on the Cheap Deals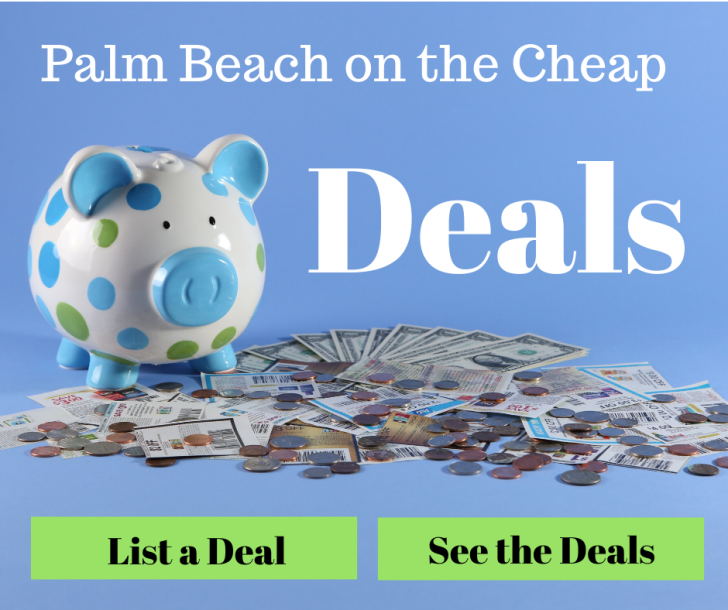 Any business that wants to share a deal with our readers can get listed, at no charge, for up to three months. Your business can decide which deals to offer and submit the information so it appears on our site in an easy-to-read display format. Customers come directly to the business, with no middleman in between, to get the deal. (There is an enhanced display available for a low fee.) We're offering this advertising free for the next three months to help businesses in our communities.
It is good for our readers, too, because it will make it easy to find more ways to save money on restaurants, shopping, entertainment and other services. Just look for the blue box on our site with the cute piggy bank!
Want to find out more? Check out Palm Beach on the Cheap Deals by clicking here.
Want to have your deal included? Fill out this form.
Any questions? Email our publisher, Teresa, at teresa@miamionthecheap.com.
Events Calendar and Adjusts to the New Normal
We hope you'll keep coming back to our site, because we're constantly making improvements – adding events, deals, resources and more.
Our latest change: We just brought back our popular Events Calendar, which now includes both real-time and virtual events. (You can submit an event here.)
If you haven't already, please sign up for our free newsletter. That will keep the good news coming straight to you every day.
And, if you have questions, comments or thoughts about what content you'd like to see at Palm Beach on the Cheap, please let us know. You can email Katy at katy@palmbeachonthecheap.com or Teresa at teresa@fortlauderdaleonthecheap.com
We're all in this together.
Sincerely,
Katy, Teresa & the Palm Beach On The Cheap team