Save $5 off a performance featuring Nova Singers by purchasing tickets online before the show.
Nova Singers community chorus presents its spring concert series, which will include Dan Forrest's "Requiem for the Living," a medley from "Fiddler on the Roof," early American spirituals and even a song from Monty Python.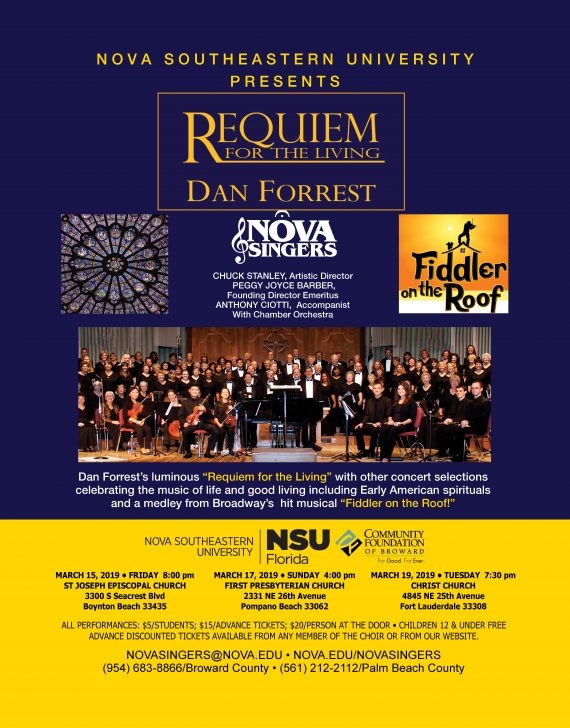 A Requiem, at its core, is a prayer for rest – traditionally, for the deceased. However, the five movements of Requiem for the Living form a narrative just as much for the living, and our own struggles with pain and sorrow.
The second half of the program celebrates the music of life and good living.
The concert will be performed three times:
Friday, March 15, 2019  |  8 p.m.
St Joseph Episcopal Church
3300 South Seacrest Blvd
Boynton Beach 33435
Sunday, March 17, 2019  |  4 p.m.
First Presbyterian Church (the "Pink" Church)
2331 NE 26th Av
Pompano Beach, FL 33062
Tuesday, March 19, 2019 |  7:30 p.m.
Christ Church
4845 NE 25th Av
Fort Lauderdale 33308
At the door, tickets are $20. Or purchase tickets online before the event and pay $15. Student tickets are $5, and children 12 and younger are free.
The Nova Singers is Nova Southeastern University's community chorus, whose approximately 140 members range from Nova undergraduate students to senior members of the local community. Auditions are held each year in September, January and March.
Find more free and cheap music events and concerts this week:
Tuesday, July 23, 2019
Wednesday, July 24, 2019
Thursday, July 25, 2019
Friday, July 26, 2019
Saturday, July 27, 2019
Sunday, July 28, 2019
Monday, July 29, 2019
See our full Calendar of Events here