The South Florida Garlic Fest will take place this year at Wellington Green Park, where the "Best Stinkin' Party in South Florida" will celebrate its 22nd year March 6-7, 2021.
Garlic Fest is a community celebration of food, music and art, with cooking competition, rides, children's activities and, of course, lots of garlic. The festival includes food and national music acts. Among the musicians expected to perform are the Expendables, The Wailers, G Love & Special Sauce, Buddy Guy, Stephen Marley, Michael Franti, Dispatch, Rebelution, Steel Pulse, The Mighty Mighty BosstoneS, Dark Star Orchestra, Collective Soul, Sister Hazel and Trombone Shorty. See the schedule here.
The event is put on by Delray Beach Arts, a nonprofit community-based organization. This annual event was formerly called the Delray Beach Garlic Fest.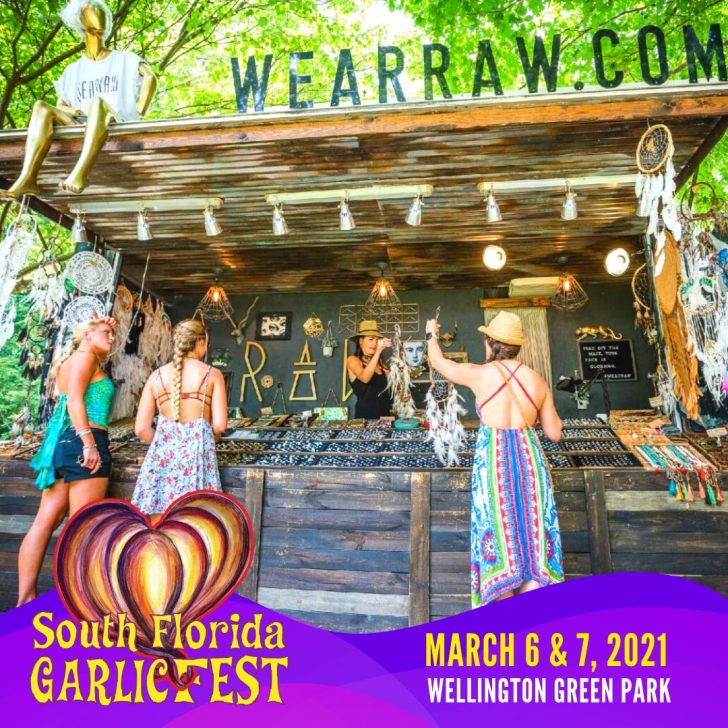 Event organizers encourage volunteers, exhibitors and the public to wear masks and adhere to the 6-foot social distancing recommendations. Exhibitors are asked to provide hand sanitizer at their booths, and there will be hand sanitizing stations throughout the event. At the main stage area, individuals are instructed to remain greater than six feet apart from other groups throughout the concerts. Attendees can bring chairs, but no coolers or drinks are allowed.
What: South Florida Garlic Fest
When: Saturday, March 6, 2021, 10 a.m. to 9 p.m. and Sunday, March 7, 2021, from 10 a.m. to 6 p.m.
Where: Wellington Green Park, 2175 Wellington Green Drive, Wellington
Cost: $10.70 online (children under 12 are free)
For more information and to purchase tickets, visit South Florida Garlic Fest
Wellington Green Park
2175 Wellington Green Drive
Wellington, FL 33414
(561) 791-4000