Join South Florida Jubilee Chorus as the singers search for snow in steamy South Florida, interspersing holiday memories with popular songs and favorite holiday music in a Dec. 16 holiday show, "Let It Snow."
Buy your tickets before Nov. 11 and get $4 off.
"The idea of 'Let it Snow' was to let chorus members walk down memory lane with stories of holidays past that serve as introductions to songs. Some are funny. Some are poignant. Some are love stories. It's a great mix of anecdotes that match our repertoire of holiday and non-holiday songs," said Carol Sheppard, show committee chair.
In the two-act performance, the 40-member women's chorus, under the direction of James Kastler, presents a show that goes in search of the snow. The chorus turns to song to recreate the struggles Floridians have celebrating the holidays in our subtropical climate when so many of our holiday reminiscences center on memories of snow, cold weather, and enjoying family and friends around a fireplace. But we keep searching, dreaming, hoping, and believing that we can bring on the snow. Can we bring snow to South Florida?
Songs will range from current hits to past favorites, as well as holiday songs for all faiths, sung in a capella four-part harmony. The chorus will be joined by several quartets.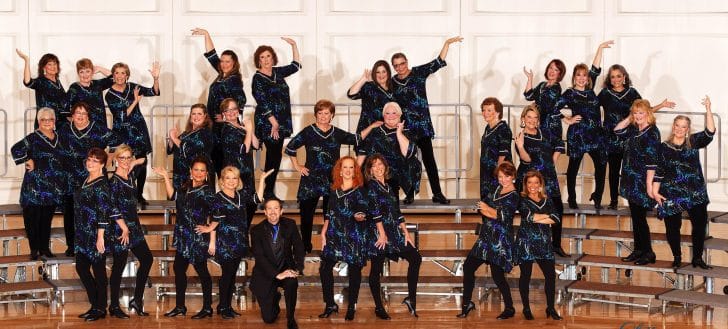 South Florida Jubilee is an award-winning women's a cappella chorus affiliated with Sweet Adelines International. It includes women of all ages and is based in Fort Lauderdale, Florida. You can find more about the chorus, including how to join, at our website, https://southfloridajubilee.org
Date: 2 p.m. Sunday, Dec. 16
Ticket prices: $22 for adults and $6.50 for children under 12 (plus $1.50 per-ticket fee). Tickets are $18 if purchased before Nov. 15.
Place: Pompano Beach Cultural Center
Get tickets: https://ccpompano.org/event/let-it-snow/
Find more free and cheap music events and concerts this week:
Friday, August 23, 2019
Saturday, August 24, 2019
Sunday, August 25, 2019
Monday, August 26, 2019
Tuesday, August 27, 2019
Wednesday, August 28, 2019
Thursday, August 29, 2019
See our full Calendar of Events here
Find more free and cheap music events and concerts this week:
Friday, August 23, 2019
Saturday, August 24, 2019
Sunday, August 25, 2019
Monday, August 26, 2019
Tuesday, August 27, 2019
Wednesday, August 28, 2019
Thursday, August 29, 2019
See our full Calendar of Events here